Children and Teens Anapana Meditation Courses
What is Anapana meditation?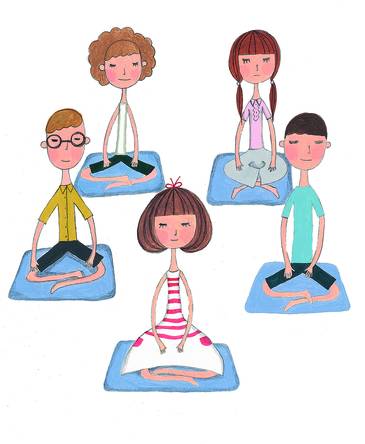 Anapana is a simple meditation technique where children and teenagers learn how to observe their natural, normal breath as it enters and leaves the nostrils. It helps them to calm their mind and to concentrate better. It is impersonal, scientific and easy to learn.
As well as helping to calm the mind, Anapana also helps them to understand themselves and how their minds work. They will gain mastery over their impulses and behaviour. They will develop an inner strength that helps them choose the right and appropriate actions over wrong actions.
Anapana is a tool that can be used to help deal with agitation, fears, anxieties and pressures they might experience in their childhood and adolescence.
By practicing Anapana, the children and teenagers can begin to take their first steps onto the path of Dhamma from a young age. This entire path of Dhamma, rediscovered and taught by Gotama the Buddha more than 2500 years ago, is a universal remedy for universal problems and has nothing to do with any organised religion or sectarian tradition. For this reason, it can be practiced freely by all, in any place, at any time. Its practice does not conflict with any race, community or religion and will prove equally beneficial to one and all.
What are the benefits for a child or teen to attend an Anapana meditation course?
The course provides an opportunity for children and teenagers to experience the benefit of meditation. By regularly practicing Anapana, it can bring many benefits, including:
Improved concentration and memory
Increased self-awareness and alertness of mind
An ability to relax
More self-confidence
Greater capacity to work and study
Better goodwill for other people
Children and teenagers who have started practicing Anapana have realised that their awareness and ability to concentrate becomes enhanced. Their memory gets sharper, their ability to comprehend a subject improves, and they become calmer. In general, they feel they have a practical tool to use in the face of any type of adversity or challenge.
Courses are for children and young people aged 8 to 18 years. Anyone in this age group who sincerely want to learn how to meditate is warmly welcome to apply for a course. Parents or guardians are not required to be old students of Vipassana courses.
There are separate courses for children and teenagers. The 1-day courses are available for children from 8 – 12 years old, or teenagers from 13 – 18 years old. At the moment, the 2-day residential courses in Hong Kong are only available for girls who are 10 – 18 years old.
The courses are conducted in English or Cantonese in Hong Kong. Other languages of instruction are also available during courses.
S. N. Goenka (1924 – 2013) was recognised as one of the world's foremost teachers of meditation. He began conducting meditation courses for adults in India in 1969 and started teaching in other countries in 1979. In his lifetime, he conducted hundreds of meditation courses and appointed hundreds of assistant teachers, who now conduct courses on his behalf.
The programme of Anapana meditation courses for children and young people began in India in 1986. Since then, tens of thousands of children and young people around the world have participated in the courses.
Today, specially trained Children's Course Teachers conduct the courses on behalf of S. N. Goenka. They are assisted by other meditator-volunteers, all of whom have completed at least one 10-day Vipassana meditation course.
When and where do the courses take place?
Courses run throughout the year. Please go to the course schedule page for details and application.
Courses take place at Dhamma Muttā on Lantau Island (Getting Here) and 1-day Anapana meditation courses are also conducted at schools upon request.
How is the course structured?
1-day courses normally run from 10.30 am to 6.00 pm. Residential 2-day courses begin at 10.30 am on the first day and end at 5.00 pm on the last day.
The students adhere to a Code of Behaviour for the duration of the course, which provides a strong foundation for their meditation.
They listen to audio recordings of instructions and short talks given by S. N. Goenka. The schedule consists of half-hour meditation sessions interspersed with creative and physical activities, such as games, art, and storytelling. The children and teenagers will be divided into groups according to their age for many activities. They will be assigned group leaders who will personally accompany and assist them throughout the course, providing support and guidance as needed.
The Children's Course Teacher conducts the meditation sessions and gives individual guidance or explanations as necessary. Other course volunteers are on hand to supervise the students, to look after their material needs, and to organise activities.
Segregation of the sexes, including students and course volunteers, will be maintained at all times in the meditation hall and during much of the course.
How much does the course cost?
In keeping with the Vipassana tradition, all courses are run solely on a donation basis, and are therefore free of charge. All expenses are met by donations from those who, having completed a course and experienced the benefits of meditation themselves, wish to give others the same opportunity. In this spirit, students and parents may give a donation at the end of the course if they wish. Any donation should only be what the giver may comfortably afford.
What kind of food is served on the course?
The food served on the courses are simple, wholesome and tasty vegetarian food prepared by the volunteers.
During the courses, the students will sometimes bake fruit pastries or make vegetarian dumplings which everyone can enjoy afterwards.